I started this Tuesday and didn't finish on time. I'm posting it late and hope you will not deduct marks.
This is the last Tuesday of 2021 – the last Slice of Life for 2021. This is the place I've chosen to write and think about holding what I've learned as 2021 becomes 2022.
But, I am still in the muck of the school year, and I'm not sure how to unearth it.
I was listening to Elizabeth Lesser this morning as she discussed her path to mysticism, the discovery that mystery is essentially the spirit of everything. This comforting thought crumbled as I began this final piece of writing intended to be something worth holding. I'd like to be writing with the creative abandon which comes though living the mystery, but I'm not – not in this moment, or this week. Lesser says that she uses writing to figure out what she thinks. I will try to do the same here. Because it's time for me to hold and release – both actions necessary as one year gives way to another.
A glancing memory from my post graduation job visited me. At the time, I was working for a government agency and office talk was critical, sarcastic, and condescending about many of the clients we served. As painful as this thought is now, I must claim my part despite being somewhat silently alarmed and privately discouraged. I did not, at that time, believe that I could influence or change that culture. Now, many years later, the complexities of school culture and the ways that these differ from place to place fascinate me. I will no longer hold the belief that school culture is something apart from me; instead, I am a part and have a role.
But, maybe this role, or this way of holding myself accountable is what changes for me in 2022. I bought myself Kristin Neff's latest book, Fierce Self-Compassion: how women can harness kindness to speak up, claim their power, and thrive. I am digging through it slowly allowing space to sift and sort ideas waiting for transformation. But, I know it often doesn't work this way, so instead I'll keep digging for the practices and actions worth holding.
It wasn't until Thursday morning when this metaphor of "holding" returned. In the morning, my mother and I exchanged a few texts. I shared concerns about the return to school plans, the fact that one of my students tested positive for COVID before the break, and I had to get tested, and then had to wait through a week of anxiety-filled fear of infecting my daughter who is disabled, and fear of infecting my 96-year-old father who just recovered from pneumonia, and evidently there is a public push for in person teaching – in four days. She said, "I feel like the government will change in June". I said, " I feel like I've been holding my breath for two and a half years."
I'd already been thinking about some beautiful lines from "Holding Back the Years" and an article about the singer, Mick Hucknall, who was abandoned by his mother as a child. The song pays homage to that memory. "Yes", I thought and wondered what memories from teaching I can hold. Then, "Oh no. If I'm holding my breath, have I actually abandoned myself. Damn. Maybe that's it."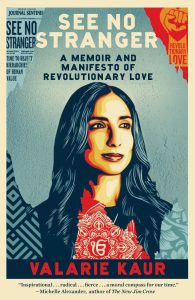 Valerie Kaur says that "Healing is the long journey of returning to one's body." In this interview she shares the Sikh wisdom of the sage-warrior; the warrior who fights and the sage who loves – she asks, "How do we hold both?"
Kaur grabs my imagination with her birthing metaphor and the mystery returns. The midwife says, "push and breathe". There is a surrender in the breath, a giving in to being here now, and being enraptured by it; then in taking a deep breath and rolling up our sleeves to do the work, to ask "what is my role to make the world a more just place for us all"?
That is all I can hold for now; breathe and push into 2022.